​About Los Mininos Cat Sanctuary
Los Mininos Cat Sanctuary is located in the tropical highlands on the slope of Volcan Baru near the town of Boquete, Panama. In this exotic location abandoned cats found on the streets, under bridges, or in the garbage are given a safe and loving home to live out their natural lives. Here they are given high quality food and veterinary care. All cats are sterilized and vaccinated. Those kitties who can be re-homed are available for adoption. However, those without a future on someone's sofa find safe refuge at Los Mininos.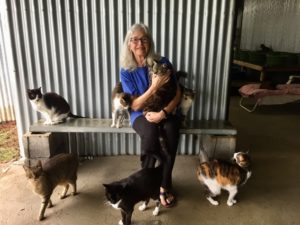 Owner/Operator Judy Odom and her assistant Jony Gonzalez provide daily care to ensure a clean, safe, and healthy environment. Each individual cat's needs drive daily care. Volunteers and visitors help socialize cats to be either more adoptable, or to give long-term residents frequent human interaction.